Ben went back to work yesterday and in preparation for this upheaval, I planned our dinners for the week using old and new recipes. I wanted dinners that were easy to make (or that could be made in advance).
Tonight we enjoyed a new recipe that was delicious!!! I cannot fully explain how great the barbecue chicken was, so I want to share the recipe so you can try it for yourselves.
The recipe is from
here
.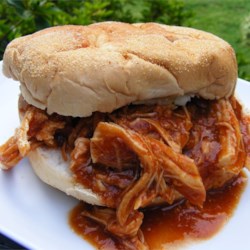 (photo from all recipes)
*I didn't add the Worcestershire sauce because I didn't have any. I also put in three large chicken breasts, not six.*
After the chicken was ready, I took it out of the crock pot and sliced it up. I wanted to make bbq sliders, but I just used hamburger buns.
I served it with corn and cheesy bacon potatoes.
We are having leftovers tomorrow and I will be serving with salad.
I hope you enjoy this as much as we did!